<<
>>
Sun
Mon
Tue
Wed
Thu
Fri
Sat
1
2
3
4
5
6
7
8
9
10
11
12
13
14
15
16
17
18
19
20
21
22
23
24
25
26
27
28
29
30
Webmasters Revenue Program
Make money with FetishNetwork.com > partner with one of the most trusted names in the adult industry and start earning!

Signup > add our links > get paid!

FetishWealth.com


You want to know why I enjoy inflicting breast torture on willing babes? I will tell you. It is because they get off on receiving breast torture and I enjoy giving it. I like wrapping boobs in packing tape or duct tape and compressing them till they hurt. I like clamping clothespins or alligator clips on boobs and squinching them into submission. I love running electrical current into nipples and inflicting breast torture that way. Breast torture turns me on and turns the babes on too. I will tell you more about breast torture some other time. Right now I have a babe due over in three minutes who is expecting me to tie up her boobs and torture them. I would not want to disappoint her... let down my aching cock either.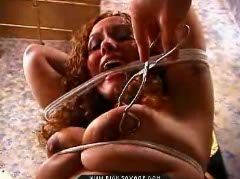 I had a great experience recently. One of my former playtoys (yes, I mean a girl), who loved undergoing tit torture in my "playroom" brought over a friend. "I was telling Audrey about the games we used to play," she said, "and she thought she might like to see what it is like." Well, I did not have to be hit over the head to get the message. Audrey wanted to try tit torture. And I did not need a gun in my back to get me to comply with the lady and her desires. She wanted to see what tit torture felt like? I would show her what tit torture felt like! I tied her up (just in case she changed her mind when the going got rough!) and then bound her tits tight with ropes while clamping her nipples with clothespins that had weights attached to them. "Fuck meeeeeee!" she pleaded. She is a regular visitor to my "playroom" now.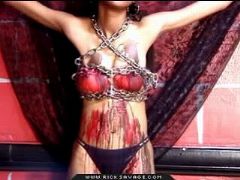 I love homemade devices. It is so much more fun to indulge my wicked pleasures in breast bondage when the breast bondage devices I am using are contraptions I have hooked up myself. Like for instance: You know those bungee cords? Well, I have a couple of long bungee cords that I hook into hooks that I screwed into the wall of my "playroom." The other ends of the two bungee cords hook onto alligator clips. The alligator clips clamp onto the nipples of whatever girl is experiencing breast bondage that night. And some stout rope keeps her tied in a heavy chair, which I keep pulling farther and farther back till her breasts feel like they are going to tear away from her body! Homemade devices are so much fun!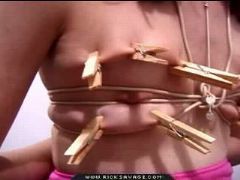 It takes a real submissive to enjoy extreme breast torture. I have had girlfriends who enjoyed breast torture and were not true submissives, but for the extreme type of breast torture, it takes a true submissive. I mean the kind of girl who gets off on being tied up and, while restrained, having extreme things done to her body. I once had a girl actually beg me, "Dump your load on my boobs," and she was not talking about my cum. She wanted me to shit on her breasts! Cumloads are easier to summon up on demand. Many is the cumload I have sprayed onto a pair of nipples or the swell of breastmeat while the girl was tied up and her breasts were attached to a homemade stretching device I have. Breast torture is hot fun!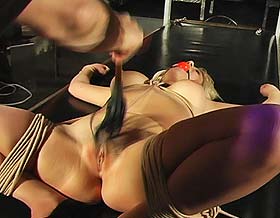 Tina had tiny breasts but oh, were they sensitive. And she had very big nipples proportionate to the size of her boobs. She was very receptive to tit torture. I mean, tit torture turned her on in the most astounding way. I would not just bite but gnaw on her breasts, chomping as hard as I could, and Tina would squirm and beg me to fuck her. "Shove it in me now!" she would plead as I used my teeth to their best advantage on her tender nipples. "Fuck meeeeeee!" she would squeal, but I was not finished with my tit torture and continued to gnaw and chomp as hard as I could. "Oh - oh! Ohhhh! It hurts. It hurts! It hurts so bad! It hurts so gooood!" she would squeal, begging me to plunge my hard-on into her wildly juicing cunt. I miss Tina!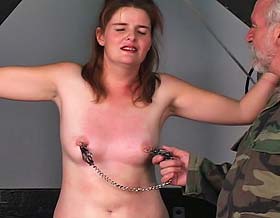 Of all the girls I have dated, Brenda was the most keen on breast bondage. Her pussy would juice up so nice and slick when I wrapped her breasts in tight ropes or clamped them in my vises. (I bet there are not many guys who own two vises and have no shop in their basement or garage.) Breast bondage really turned her on. One time she even suggested a form of breast bondage herself: "How about wrapping all your belts around my chest and tightening each one as tight as ever you can. Make sure you buckle it over my breast. That way the buckle will dig into my boob too." Yes, Brenda was certainly an aficionado of breast bondage!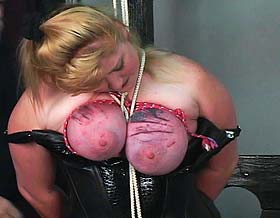 My newest girlfriend is just starting to learn how seriously kinky I am. She came over the other night and sat down on the sofa with me. She was expecting some snuggling... and some sex. She was not expecting breast torture. But breast torture is what she got. When I pulled her shirt off, removed her bra, and took her breast in my hand, she purred and snuggled up to me. Then I pinched her nipple... hard! She yelped and sat up straight. "What are you doing?!" she asked. "Get used to it. You will like it once you get used to it," I said, biting her other nipple. Breast torture is an acquired taste. I expect her to acquire it soon.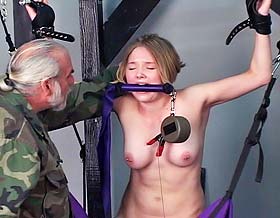 There is nothing quite so hot as a great pair of tits, but my favorite view of them is one that depicts tit torture. I really get my rocks off looking at tits that are being squeezed by a binding set of ropes or squashed in a vise. Another good kind of tit torture is nipple torture, when clothespins, alligator clamps, or some other painful and tight device is putting the squeeze on those lovely nips. Tit torture is a serious turn-on for a twisted guy like me. It really puts starch in my wand. I mean, the more those tits are abused, the harder my cock gets.